OBJECTIVES
Septentrion Environnement is contributing to the "MPA Odyssey in the Mediterranean" programme, led by WWF-France. This is a pluriannual scientific field expedition, carried out aboard the Blue Panda, and aiming to strengthen the impact of MMI advocacy for 30% the Mediterranean to be protected and recovering and 3% to be fully protected (strong protection). A first field mission was carried out in September 2021, conducted in the territory of the Marine Natural Park of Cap Corse and Agriate (PNMCCA) and with its partnership. Other missions, in other MPAs of the western and eastern Mediterranean basin, are planned for 2022 and 2023.
The objective of the 2021 mission was to collect data via visual dive surveys aimed at describing the state of the ichthyological populations in order to assess the level of protection and the benefits provided by the MPA of the PNMCCA: sites inside and outside the fishing zone, along the entire length of the Park's coastline, were sampled. These data are compared with data from other Mediterranean MPAs.
DESCRIPTION
The team consisted of a mission leader (Denis ODY, WWF-France), 5 scientific divers (Septentrion Environnement and Andromède Océanologie) who carried out the surveys, and 3 crew members and a volunteer for the Blue Panda (Seanergie). Among the scientific divers, Olivier BIANCHIMANI (SE) was in charge of the organisation and safety of diving operations. Adrien CHEMINÉE (SE) was in charge of scientific protocols, Tristan ESTAQUE (SE), Anouck ODY (AO) and Sébastien PERSONNIC (AO) were scientific divers.  In addition, Joachim CLAUDET (CNRS) was involved in the preparation of the protocol and data treatment.
Report: The Marine Protected Areas Odyssey - WWF Mission
---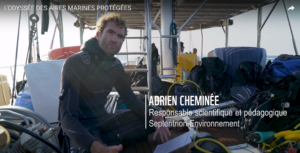 >> Watch the report on the Marine Protected Areas Odyssey ©HUGOHEBBE-WWFFRANCE